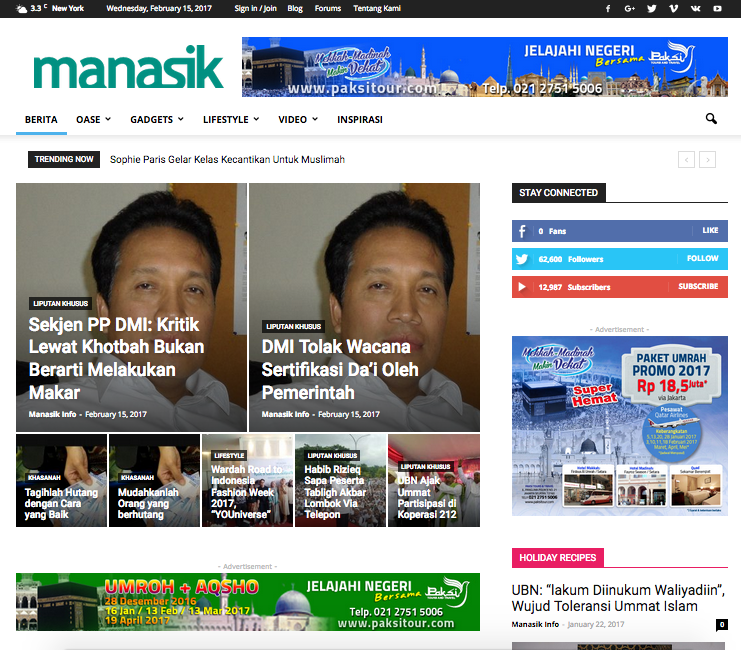 Website Development of Manasik Info Online News Website.
Client:
PT. Manasik Info Mediatama
Date:
june 18, 2016
Website:
Task:
Design & Development
Manasik Info Website Development is a process towards Online News website about Haji – Umrah & Khasanah Islam in Indonesia and International.
An online newspaper is the online version of a newspaper, either as a stand-alone publication or as the online version of a printed periodical.
Going online created more opportunities for newspapers, such as competing with broadcast journalism in presenting breaking news in a more timely manner. The credibility and strong brand recognition of well-established newspapers, and the close relationships they have with advertisers, are also seen by many in the newspaper industry as strengthening their chances of survival. The movement away from the printing process can also help decrease costs.
Online newspapers are much like hard-copy newspapers and have the same legal boundaries, such as laws regarding libel, privacy and copyright, also apply to online publications in most countries. Data Protection Act applies to online newspapers and news pages, as well as the PCC rules. But the distinction was not very clear to the public as to what was a blog or forum site and what was an online newspaper. In 2007, a ruling was passed to formally regulate online newspapers, news audio, and news video websites covering the responsibilities expected of them and to clear up what is, and what isn't, an online publication.